Zaza, born Zaza Ujmajuridze, was born in Tbilisi, Georgia – a country beautifully set between the Caucasus Mountains and the Black Sea with a culture as ancient as its language.
Besides being a musician, Zaza is a successful oncologist, working in Denmark.
Zaza is initiated into the Gaudiya Vaishnava tradition and goes by the spiritual name Nandapriya das. He decided to use Zaza for his recordings, though since it's easier to remember.
Despite his full-time work as a medical doctor, Zaza has translated from English to Georgian about sixty books on India's spiritual knowledge and produced and printed them. These books were themselves translated and commentated from Sanskrit and Bengali into English by A.C. Bhaktivedanta Swami Prabhupada.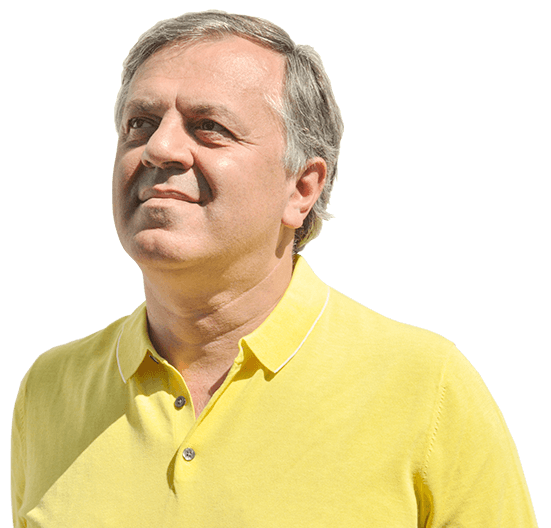 Vocal by Zaza. All piano/keyboards by Zaza.

The poem by Galaktion Tabidze (1892-1959), The Further You Are, was rendered by me into a song. His poetry is widely loved in Georgia by its musicality, harmony, deep sense, symbolism, lucidity, romantism. His voice is recognizable without a doubt. One can compare him to Mozart and Chopin, joined together. In my humble opinion, he is among the best poets of the world. This short and simple poem was written when he was merely 16 and it sounds like a music in itself in Georgian. I translated it into English and Russian.
The further you are, the sweeter my delight,
In you, I love my dream so bright,
Untouched by hands, uncaptured as the light,
Distant as Eden, unreachable by sight.
But if I imagine you for someone, you are not,
I do not regret, I embrace this fault,
My fevered heart desires to perceive
You as the white angel, the angel of dreams.
Let this never-felt passion blaze in my heart,
The torrents of tears fill the sea as the flood,
But let me blindly believe in this dream,
In the goodness of love and its joy supreme.
1908
The Red Dust of Ekachakra
All vocals by Zaza and Narayani. All piano, as well as keyboards (Nityananda Ram) by Zaza. Arragned by Kæv at his studio.
looking back… looking forward
This is Zaza's first album. A prolific pianist and singing artist, he started recording fifty years into his life, although he has been composing improvisational music since childhood, when he spent seven years in music school. Although he later chose to go to medical school, music followed him, and he continued to compose occasionally.
As a young man he became a serous adherent of the Krishna consciousness movement, and again music was pushed to the back of his life. Later, family and work responsibilities left him little time for much else. But the dream of making music never left him.
One day, his twelve-year-old daughter asked him to share his music with the public. Bolstered by her enthusiasm and the encouragement of friends, among whom were some
professional musicians, Zaza found the support he needed. This led him to an amazing jazz pianist and musician, Professor Carsten Dahl, former head of the jazz conservatory in Copenhagen. Carsten suggested him to try recording music in the studio, maybe even two of them, but the timing wasn't right and Carsten directed Zaza to another wonderful musician, who owned a studio.
The recordings on this album were done quickly, each song taking only 10-30 minutes to record. Kaev Gliemann arranged the music, and Zaza decided to release them as they were – a little raw, but genuine.
Although Zaza had written a number of songs, many still lacked lyrics, so for this album Zaza wrote new songs to lyrics he already knew, drawn specifically from old spiritual songs in Bengali and Sanskrit that glorified Sri Chaitanya Mahaprabhu and Nityananda Prabhu and their great devotees and spiritual abode.
Zaza used the songs of Narottam das Thakur, a great Bengali pure devotee who lived in fifteenth century India, as well as of Bhaktivinod Thakur, a prominent Vaishnava and writer. Their lives and teachings are as brilliant as the sun.
Zaza dedicates this album to the amazing Nityananda Prabhu, the incarnation of Krishna's brother, Balaram, and His birthplace, the village of Ekachakra, West Bengal. He also dedicates the songs to Sri Chaitanya Mahaprabhu, who is Krishna Himself. Both appeared in this world just over five hundred years ago.
He is currently working on his next album, which may include compositions with both English and Georgian lyrics. He also intends to write songs in Danish, since Denmark has been his home for so many years, or perhaps Russian, and, of course, more songs using Vaishnava texts. He particularly likes making music with evocative poetry from any language.
Zaza is particularly interested in modern medicine, the arts, vegetarianism, helping the environment, spiritual mysticism, and pure bhakti-yoga.
We look forward to hearing from you!
Please write us a quick note and I'll call or email you right away.
If you do email Zaza your email privacy is assured. Thank you!